PAOLOZZI
An arts documentary in development featuring the late artist Eduardo Paolozzi. Narrated by Paolozzi himself, his voice accompanies us through a cinematic landscape of art, architecture, weapons, archive material, visual poems, rubbish, technology and robots. Featuring newly shot footage, archive material, bespoke graphics, visual poetry and a specially commissioned sound score. This is a unique homage and philosophical/visual essay, commenting on our time.
… the paradox of creativity is that it is always preceded or simultaneously accompanied by, an act of destruction, which is both real and symbolic. The very process of collage makes this inevitable. The word collage is inadequate as a description because concept should include; damage, erase, destroy, deface, and transform all parts of a metaphor for the creative act itself. Thus the creative act of collage is a method of taking the world apart and reassembling it in the order that one understands, and that order is ruled by one's emotions, intuition and intellect. That is Surrealism. And that is perception.
Eduardo Paolozzi
Cosmic Rays
An installation by Gilly Booth created as part of an artist in residency at H.Q. im Loop, Zurich, 2020 curated by Iona Ruegg and Jiajia Zhang, supported by Pool Architects.
Moving images and sound collide across two photographic developing trays containing molasses – a 'conversation' of footage from Bini's abandoned test facility, Mushroom Field site experiments of the mid-1960s, to scenes of present-day Tokyo and Hakodate. The split-screen image is collaged together with a double-layered soundtrack, the sound and image often reversed or turned upside down. The Binishell's architectural radars listen to the sounds (artificial and real) from images of travel, barriers and technology in Japan, at the same time amplifying environmental sound. Abandoned and reclaimed by nature, they remain as monuments to 'Unfinished Architecture'.
The architect Dante Bini exhibited his 'Binishells' in Expo 1970 in Osaka, Japan. At the same time he designed 'La Cupola' for Michelangelo Antonioni and Monica Vitti within Costa Paradiso, a tourist destination in Sardinia. The 'Mushroom Field' site, a 1970s utopian vision set against a backdrop of the first moon landing, widespread anti-war protests, and environmentalism. It was a time when architects experimented with radical designs as an instrument of political, social and cultural critique. Bini in particular was interested in building structures on the moon ('Early Lunar Bases'), and creating levitating cities: the TRY megastructure concept, an unrealised project commissioned by Shimizu Corporation for Tokyo Bay.
Choreographed Architecture
A film performance collaboration between Gilly Booth and performer Desiree Ballantyne, commissioned by Altro to launch a new flooring technology and to celebrate 100 years of the Bauhaus. Shot on location at Oscar Schlemmer's Master House, Debelon Factory and Bauhaus.
Director and editor: Gilly Booth, DOP: Anthony Lucas, Location supervisor: Uli Leysor, Production assistant: Maya Bringolf, Performer: Desiree Ballantyne, Sound composition: Phoebe Osbourne and Luca Nasciuti, Graphics: Paul Plowman.
Double Trespassing
An experimental short film supported by an Arts Council International Development Award. Exhibited December 2017 as part of 'The Museum of the Unwanted'
Artist Gilly Booth and academic Eleonora Raspi went on a road trip to find the abandoned 'Cupola' designed by architect Dante Bini in 1969 for the Italian film director Michelangelo Antonioni and his girlfriend actress Monica Vitti. Entering through a broken window armed with a camera and tripod there was evidence that they were not alone. This film portrait was shot in one hour against fading light. After Antonioni's death, and a period of agreed silence, the revealed location attracted visitors to its architecture of lost love.
Direction & Editing : Gilly Booth, Sound composition : Mike Silver, Graphics : Paul Plowman
Exhibited as part of Inaction, London curated by WATCH-IT gallery, Museum of the Unwanted, at Waldhaus Dolder, Zurich, curated by artist/curator Clare Goodwin, Blow Up, Chicago Film Festival and H.Q im loop, Zurich curated by Ilona Ruegg and Jiajia Hefei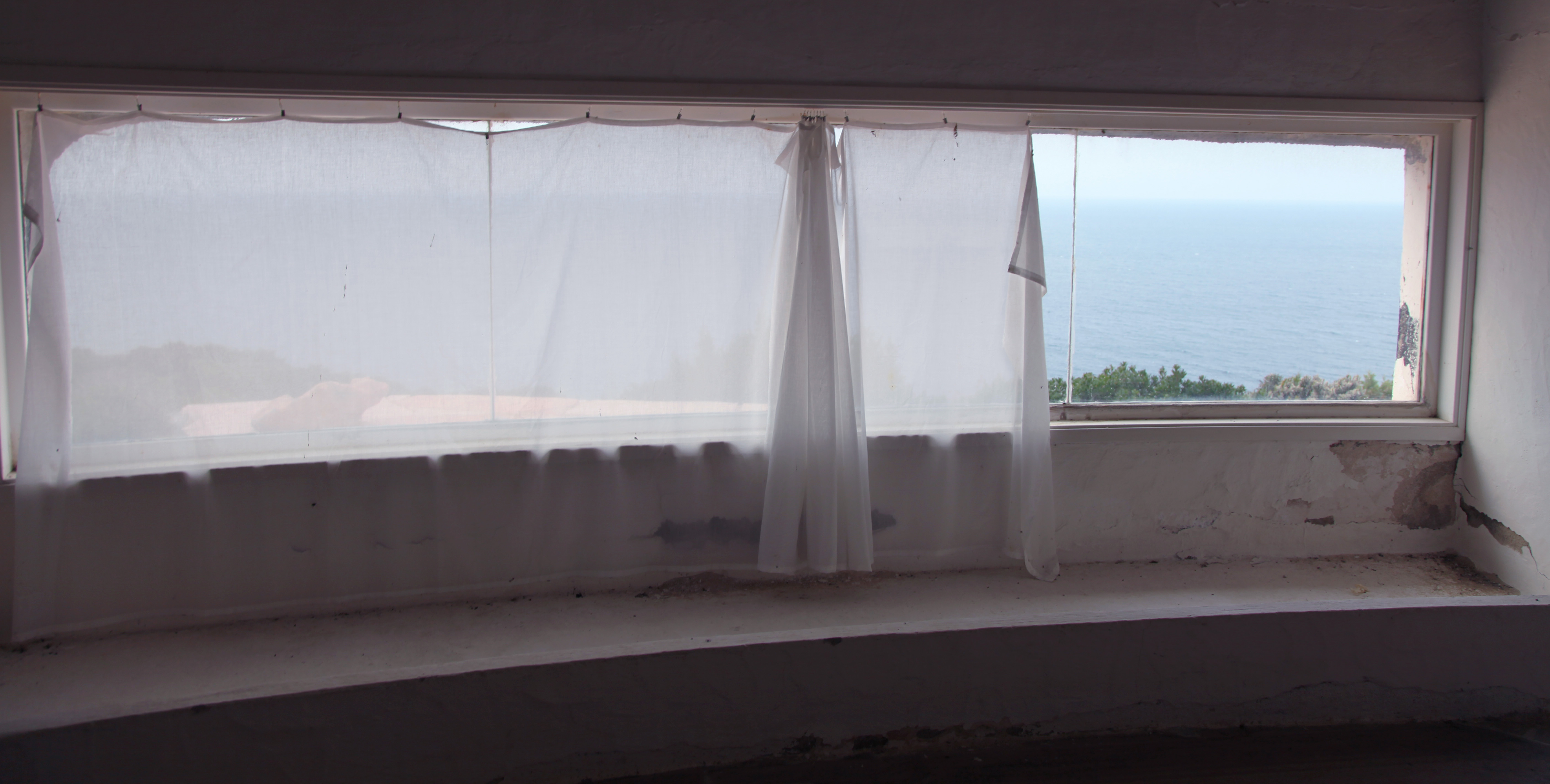 A Modernist in Suburbia
A short documentary film collaboration between the film maker Gilly Booth and academic Dr Fiona Fisher on the life and work of the British architect Kenneth Wood, funded by the AHRC and supported by Kingston University. Initially exhibited at the Stanley Picker Gallery as part of The Occupants: Contemporary Perspectives on the Picker House, 2012. This is the first film on Kenneth Wood. A Modernist in Suburbia highlights his early career including his travels to Vancouver and Manhattan, his early architectural innovations in building methods and materials, and his later commissions for homes in London's leafy Surrey, where his modernist vision for architecture reconciles itself with the natural elements of suburban scenography. The documentary includes access to Wood's architecture, his journals and personal archive, and a unique interview with Wood himself as he reaches his late-80s. A Modernist in Suburbia is the first documentary film to explore the heritage of suburban British modernist architecture through the biographical detail of one of its unsung yet critically important practitioners.
Director & Editor: Gilly Booth, Researcher & Writer: Dr Fiona Fisher, Director of Photography: Jack Mealing, Graphic Designer: Paul Plowman, Original Music: Jonny Trunk, Soho remix & sound dub: Sharron Harris, Saxaphone: Andy Brindley, Additional sound recording: Dominic Robson, Woman in red dress: Beatrice McHugh, a hijack production 2012.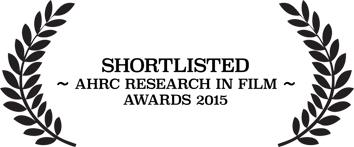 Space Electronic, then & now
An installation exhibited within the Venice Architectural Biennale 2014. Curator Dr Catherine Rossi collaborated with Gilly Booth to create a short film for the exhibition. The film draws upon the archive of the Florentine discotheque Space Electronic from 1969 to the present day – a site for dance, progressive rock, art installations, performance art and architectural happenings.
Space Eectronic, then & now curated by Dr Catherine Rossi and designed by Ben Kelly studio. Film direction and editing: Gilly Booth, Research – Catherine Rossi, Soundtrack – Mike Silver, Graphics – Paul Plowman and AV Consultancy – Dominic Robson. Special thanks to Carlo Caldini, Gruppo 9999 and Elettra Fiumi for use of their archival material.
Studio of Objects
hijack led the project Studio of Objects, with research partner Kingston University, technology partner Touchpress and Dacapo after receiving a Digital R&D Award for the Arts from Nesta/AHRC/Arts Council to support their project Studio of Objects. The project used a 360-degree archaeological laser scan to capture the preserved studio of artist EduardoPaolozzi. The 3D scans used revolutionary code for tablets to explore how users interact and navigate the studio with this innovative technology.
Also supported by the Scottish National Gallery of Modern Art, V&A, Tate Modern, British Library, Pallant House Gallery and the Paolozzi Foundation.
Richard Rogers + Architects: From the House to the City
Ab Rogers Design commissioned hijack to create 8 short films as part of the touring exhibition, From a House To a City, a retrospective on the work of architect Richard Rogers and his partners. The exhibition explored 45 years of RSHP's architectural projects through display of models, photography, drawings, films and digital animations.
Originally conceived by Ab Rogers Design for the clear span of Pompidou's Halle Sud, the exhibition went on to travel to a further seven venues across the world, ranging from purpose built and converted historical factory gallery spaces, to civic office and 24-hour shopping mall atria: Pompidou Centre, Paris. Design Museum, London. Caixa Forum, Barcelona. Caixa Forum, Madrid. Taipei Fine Arts Museum, Taipei. Urban Redevelopment Authority, Singapore. IFC Mall, Hong Kong. Capital Museum, Beijing.
Exhibition design: Ab Rogers Design
Graphic design: Praline
Films : hijack
AV & Interactive elements: Harmonic Kinetic
Photography © John Short
Mary Watts' Diaries
A film commission by Watts Gallery situated within the new Watts Studios gallery as a permanent exhibit. The film creates a historical account of Mary Watt's life with the artist George Frederick Watts. A narrated voiceover (edited entirely from Mary's diaries from 1887-1904) guides us through her emotions, artistic practise and her collaboration as potter within her adjacent community.
Research: Nick Tromans, Direction & editing: Gilly Booth, DOP: Jack Mealing, Camera Assistant Louis Mealing, Voiceover artist: Valerie Edmond, Graphics: Paul Plowman, Sound research: Harmonic Kinetic.
a hijack production.
8400 Objects
An audio visual multi-screen permanent installation commissioned by the Science Museum, London for the newly reinstated workshop of the engineer James Watt. The display comprises 8 projections, surround sound and programmed lighting. The project included a six-month artist in residency by Gilly Booth within the museum to develop and test the concept and work alongside senior curators Andrew Nahum and Ben Russell.
Direction, photography & editing : Gilly Booth/hijack, Art direction : Gilly Booth, Paul Plowman, Graphic design : Paul Plowman, Research, copywriting & animation : Chris Horrocks, Sound design : Dominic Robson/Harmonic Kinetic, AV installation: Harmonic Kinetic, 3d design : Sarah Stallard, Musicians : Fernhill
a hijack production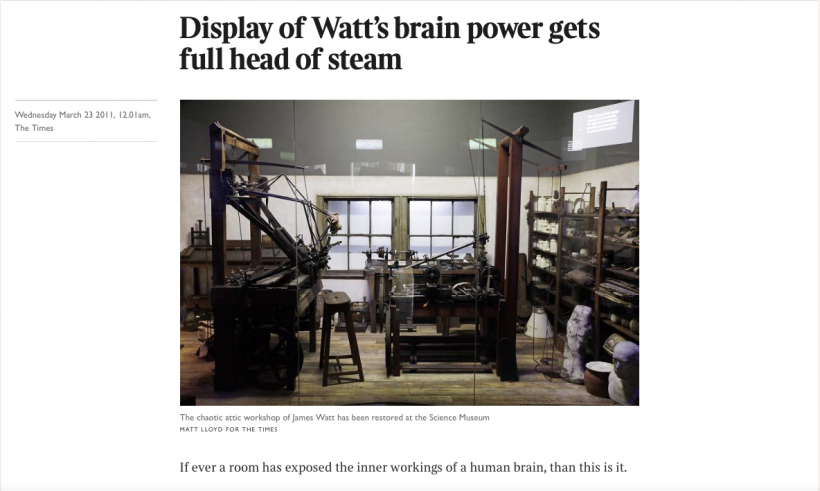 Feature in the Times Newspaper 2011
Book Works
A short film commissioned by director Jane Rolo of Book Works, the International artist's book publisher, to celebrate their 25th year anniversary.
Direction & editing: Gilly Booth, Graphics: Paul Plowman, Art direction: Gilly Booth & Paul Plowman, Sound: Remixed Water by Ned Sublette, Lawrence Weiner, Callisto by James Brook, Extra camera: Sharron Harris.
a hijack production 2009.
David Adjaye
A film Interview by Megumi Yamashita with David Adjaye for the publishing magazine, Case Brutus, Tokyo, Japan as a tribute to the Modernist Hotel Okura.
direction and editing: hijack
Dora Gordine, Sculptor Artist Designer
A short documentary film commission by Dorich House Museum. The film is housed within the Museum's gallery as. permanent exhibit. Supported by Lottery Heritage Arts Council and Kingston University.
Direction & editing: Gilly Booth, Graphics: Paul Plowman, DOP: Roland Denning, Script: Jonathan Black, Chris Horrocks, Brenda Martin, Production assistant: Kate Axten, Research assistant: Gina Evans, Additional Research: Fran Lloyd & Penny Spark, Narration: Lucy Oldham, Music: performed by Diane Berry & Ben Bernard.
A hijack production 2009
In 1938 Dora Gordine was hailed as 'possibly becoming the finest woman sculptor in the world.' For over thirty years she was widely perceived as a major presence in European sculpture; for her contribution to the inter-war art movement known as the rappel a l'ordre, as a prominent member of the Royal Society of British Sculptors and as a founder of the Society of Portrait Sculptors. In her heyday, from the late 1920's to the mid 1960's, she attracted the admiration and respect of prominent figures within the cultural world as diverse as the celebrated sculptor Aristide Maillol, modernist architects such as Auguste Perret and Charles Holden, curators such as Sir Kenneth Clark and Alfred Flechtheim and writers such as Freya Stark, Sir John Pope-Hennessy and Robert Byron.She was widely admired as a creator of psychologically acute portrait heads, idiosyncratically distinctive public memorials and sensuously stylish figure sculpture. She also merits attention for her highly individual sense of style evident in the studio-homes she had built for herself in Paris, Singapore and in London. The last of these homes, Dorich House on the edge of Richmond Park, is the most architecturally intriguing and was designed by Gordine herself – a feat virtually unheard of for a woman artist at the time of its construction in 1936.Gifted, charismatic, imperious and irrepressible, 'La Gordine' led a fascinating life travelling extensively in Europe, North America and in South-East Asia. An air of mystery has often been associated with the artist – who was readily prepared to foster uncertainly concerning her background and nationality.
James Henry Pullen
INMATE INVENTOR GENIUS
A short documentary film about the life and work of James Henry Pullen commissioned by Watts Gallery as part of the exhibition James Henry Pullen: Pictorial Autobiography.
Research: Nick Tromans and Kirsten Tambling, Direction & Editing: Gilly Booth, Graphics: Paul Plowman, Presenter: Kirsten Tambling.
Supported by Arts Council England.
Special thanks to Langdon Down museum of Learning Disability.
Lorenza Mazzetti in conversation
A short documentary film interview by Chris Horrocks about her film Together, that she directed in 1956 as part of Free Cinema. Originally screened as part of an exhibition at Pallant House Gallery on Eduardo Paolozzi.
Direction & editing: Gilly Booth & Chris Horrocks, Sound Recording: Calum Sample, Graphics: Paul Plowman.
a hijack production 2013.
Special thanks to Lorenza Mazzetti and Pallant House Gallery.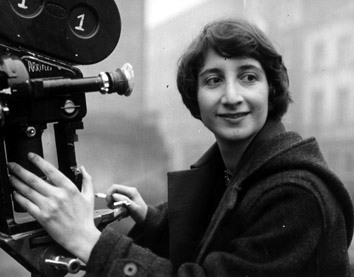 One Dau Trois 1 2 3
A 35mm short film about love, loss and language. A collage of image text and sound in which the film follows a Woman (A) and a Man (B) from Cardiff to Paris to interview an anarchist who ends up talking about where she gets her hair cut. A moebian strip of desire which ends in a semaphore of pop music.
director and editor – Gilly Booth, producer – Michele Ryan, director of photography – Roland Denning, script – Gilly Booth, sound recording – Pasha Shilov, camera assistant – Leon Hoser, production assistant – Rachel Whitfield, graphics – Paul Plowman, sound composition – Sonovac, A – Silvea Sacco, B – Fabritzio Campaiola, Anarchist – Laurence Lize. French Woman – Brigitte Libmann, Semaphore – Chief Petty Officer Brian Mills, Radio voice – Dafydd Du
produced by Teliesyn, sponsored by the Lottery Arts Council of Wales, distributed internationally in film festivals by the British Council  and exhibited in galleries including the ICA, and Chapter Arts Centre, and the conference 'Transversality', Reading University. Premiered at the Curzon Cinema, Soho, London.
Paul McCartney at the Aronlfini
Paul McCartney explains his approach to his painting by discussing the works in his exhibition at the Arnolfini Gallery in Bristol, in 'Paintings', the web and TV documentary directed by Norman Hathaway and produced by Kasper de Graaf/Images&Co. Line producer was hijack's Gilly Booth.